1970
- He beat records in Spain, where he gave 41 concerts in 41 cities, in only 30 days.
1976
- Performed for the first time in the emblematic Madison Square Gardens in New York, where he set a box-office record, selling out tickets in the shortest space of time ever registered for an artist at this venue.
1977
- Beat the record in Chile for an audience where more than 100,000 people gathered for his concert held at the National Stadium in Santiago, a performance that was considered the largest musical event in history.
1982
- Broke a record in Japan, where he sold 1,200,000 copies of his album "De niña a mujer", in only six months.
- Broke a record in Brasil, where his album "De niña a mujer" went multiple-platinum, with more than 2,000,000 copies sold in eleven months.
1983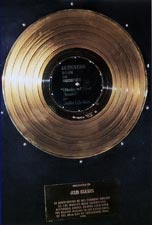 - Entered the Guinness book of World Records, for having sold the most records in the most languages in history.
1986
- Sang for 45,000 people at the Houston Rodeo.
1988
- He became the first international artist to have a live television special on Chinese National Television in Bejing, with an audience of 400,000,000 spectators. Julio sang the duet "To All the Girls I've Loved Before" with the program's host.
1991
- The international news agencies highlighted his concert in front of 170,000 people in O'Higgins park in Santiago in Chile, considered the largest audience in South America for a similar event.
1995
- He became the only foreign artist officially to have sold the most records in China and, for this, he received a tribute from the Chinese Ministry of Culture.
- His album "La Carretera", made him the first Spanish artist to reach Platinum as a result of only one day of sales.
1999
- Julio became the most important foreign artist in the history of Brasil, performing for more than 150,000 people in the "Parque do Ibirapuera" in Sao Paulo, the most famous park in the country.
2009
- In June, he returned to Las Vegas after a two-year absence, with two performances at the Las Vegas Hilton. The seats were sold out two months before the concerts and the promoters of the performances allowed standing-room-only tickets to be sold, a unique case for the concerts of an artist in Las Vegas.
2010
- Currently, Julio Iglesias is the latin artist who has sold more records in history (300 million).
2011
On November 22nd, the album Julio Iglesias "1" is released in Spain and it immediately gets the first position on iTunes. The album got the Platinum record in Brazil and the Diamond record in Colombia.
2013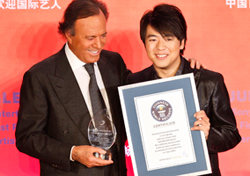 - Julio Iglesias received the Guinness World Records for the Best-selling Male Latin Artist.
2016
- Julio Iglesias receives an award in South Africa for selling more than 500,000 records, becoming one of only three artists in the world who have been the recipients of this prize.